Current trend
This week gold has been consolidating in the range of 1250.00-1260.00. It set a new 5-weeks maximum, and this night also a new 6-months one. Gold is supported by negative data from the USA, namely yesterday's information on the labour market, as well as the negative reaction of the investors of MoM of FOMC Open Markets Committee. Positive dynamics of gold is observed along with the growth of US dollar. Such behaviour of instruments with opposite correlations may indicate that one of them is in the consolidation movement to the main trend. US dollar is likely to be this instrument.
Speaking about the USA, the market is waiting for the labour market release namely on the changes in nonfarm payrolls at 14:30 (GMT+2) with negative outlook, as well as for the weekly report by Baker Hughes on active oil platforms in the USA at 20:00 (GMT+2) with positive forecast. Moreover, attention should be paid to the results of the meeting between the US President Donald Trump and the PRC Chairman Xi Jinping.
Support and resistance
Support levels: 1250.00, 1228.00, 1215.00.
Resistance levels: 1265.00, 1282.00, 1305.00.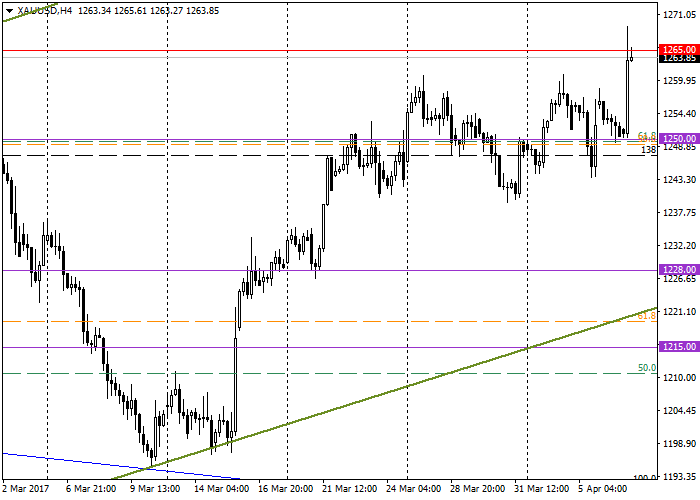 Trading tips
Long positions may be opened at the market price with targets at 1288.00, 1305.00 and stop-loss at 1230.00.
Alternatively, sell positions may be opened from the level of 1250.00 with targets at 1228.00 and stop-loss at 1270.00.
The period of implementation is from today to the beginning of the next week.
Scenario
| | |
| --- | --- |
| Timeframe | Intraday |
| Recommendation | BUY |
| Entry Point | 1263.71 |
| Take Profit | 1288.00, 1305.00 |
| Stop Loss | 1230.00 |
| Key Levels | 1215.00, 1228.00, 1250.00, 1265.00, 1282.00, 1305.00 |
Alternative scenario
| | |
| --- | --- |
| Recommendation | SELL STOP |
| Entry Point | 1250.00 |
| Take Profit | 1228.00 |
| Stop Loss | 1270.00 |
| Key Levels | 1215.00, 1228.00, 1250.00, 1265.00, 1282.00, 1305.00 |