Brent Crude Oil: general analysis
Pips:
Current trend
Oil prices continue to grow, as investors are waiting for the expansion of the OPEC+ Oil Production Limitation Agreement. Trades worried about the prolongation of the agreement by 9 months due to Iraq position, which suffers from the budget difficulties. However yesterday on the press conference Iraq Oil Minister Jabar Al Luaibi stated that he agreed with the transfer of the deal, so this pushed the prices up.
Today the EIA Crude Oil Stocks change data will be published. The expected decrease of resources will help Brent Crude Oil price to grow further. Tomorrow the OPEC+ wll be held in Vienna, where the prolongation of the agreement by 9 more months will be announced, which will support oil market in the middle term period.
Support and resistance
On the daily chart the instrument is growing alongside upper border of Bollinger Bands, consolidated above the level of 54.00. It is pointed upwards, as the price range is widening, which reflects the development of the upward trend. MACD histogram is in the positive zone; its volumes are growing, forming a buy signal. Stochastic is corrected in the oversold area.
Support levels: 53.79, 53.28, 52.53, 51.56.
Resistance levels: 54.90, 55.73, 56.25, 56.85.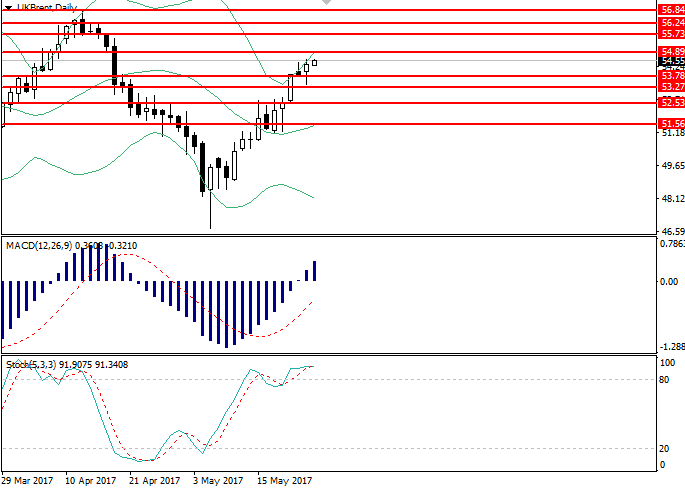 Trading scenario
Open long positions at the current price with the target at 55.75, 56.25 and stop loss at 53.75.
Open short positions at the level of 53.70 with the target at 51.80 and stop loss at 55.15.
Implementation period: 1-2 days.
Scenario
| | |
| --- | --- |
| Timeframe | Intraday |
| Recommendation | BUY |
| Entry Point | 54.72 |
| Take Profit | 55.75, 56.25 |
| Stop Loss | 53.75 |
| Key Levels | 51.56, 52.53, 53.28, 53.79, 54.90, 55.73, 56.25, 56.85 |
Alternative scenario
| | |
| --- | --- |
| Recommendation | SELL STOP |
| Entry Point | 53.70 |
| Take Profit | 51.80 |
| Stop Loss | 55.15 |
| Key Levels | 51.56, 52.53, 53.28, 53.79, 54.90, 55.73, 56.25, 56.85 |