FDAX: Fibonacci analysis : Forex trading Analysis From Fxpearl : Technical
Online forex platofrm:
FDAX: Fibonacci analysis. Strategy, Recommendation, Entry Point, Take Profit, Stop Loss, Key Levels :Forex Trading
Downward movement may continue
On the four-hour chart the price is around 12258.0 (correction 23.6%), trying to break it up. However, the upward movement to the levels of 12360.0 and 12385.0 would happen only after the consolidation of the price above the middle line of the Bollinger Bands (12275.0). Otherwise, the correction will continue to the levels of 12179.0 (correction 38.2%) and 12116.0 (correction 50.0%), while the price would have to overcome the resistance of an ascending fan.
On the daily chart the price is still moving in an uptrend, but judging by Stochastics (it has left the oversold zone), in the near future a correction may occur to the middle line of the Bollinger bands (12085.0) and further, to the leve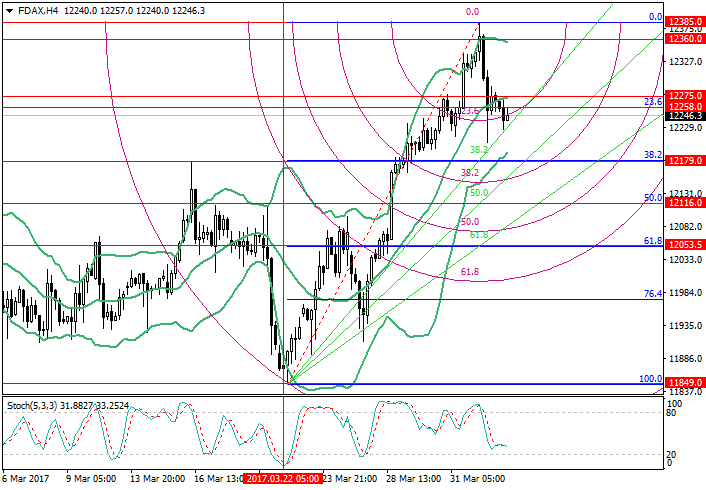 l of 12877.5 (correction of 23.6%). In addition, the price is in the area of the temporal Fibonacci level (5), which also indicates a likely downward movement.
Main scenario
The sell positions may be opened below 12220.0 with targets of 12179.0, 12116.0 and 12085.0. Stop-loss orders should be set in the area of ​​12267.0.
Alternative scenario
Long positions would become relevant above the level of 12275.0 with the targets at 12360.0, 12385.0 and stop loss at 12230.0.
Scenario
| | |
| --- | --- |
| Timeframe | Weekly |
| Recommendation | SELL STOP |
| Entry Point | 12218.00 |
| Take Profit | 12179.0, 12116.0, 12085.0 |
| Stop Loss | 12267.0 |
| Key Levels | 12085.0, 12116.0, 12179.0, 12258.0, 12275.0, 12360.0, 12385.0, 12877.5 |
Alternative scenario
| | |
| --- | --- |
| Recommendation | BUY STOP |
| Entry Point | 12280.0 |
| Take Profit | 12360.0, 12385.0 |
| Stop Loss | 12230.0 |
| Key Levels | 12085.0, 12116.0, 12179.0, 12258.0, 12275.0, 12360.0, 12385.0, 12877.5 |