Brent Crude Oil: general analysis
Current trend
Last week oil prices reached the 4 weeks maximum around 53.50-54.00 USD per barrel. The price was supported by the lowering of the USD, which is weakening due to the USA Administration crisis. The lowering of the US oil recourses also made a positive impact on the price. In addition, the commentaries of the OPEC members leave no doubt that the oil production limitation agreement will be prolonged.
The main upcoming issue in the oil market is the OPEC meeting in Vienna on May, 25. Most likely, the result of the meeting is already taken into account by the investors, and after the publication of the results of the OPEC meeting the traders will fix the profit partially, which will lead to the lowering of the price.
Support and resistance
Technical picture reflects that the price crossed very significant resistance zone — the lower border of the channel D1 (blue), which has been the price growth trend line for the year and a half. Further reaction of the price in this zone will determine the movement dynamics in the nearest future.
Support levels: 53.75, 53.00, 52.60, 51.50.
Resistance levels: 54.40, 55.00, 56.15, 57.20.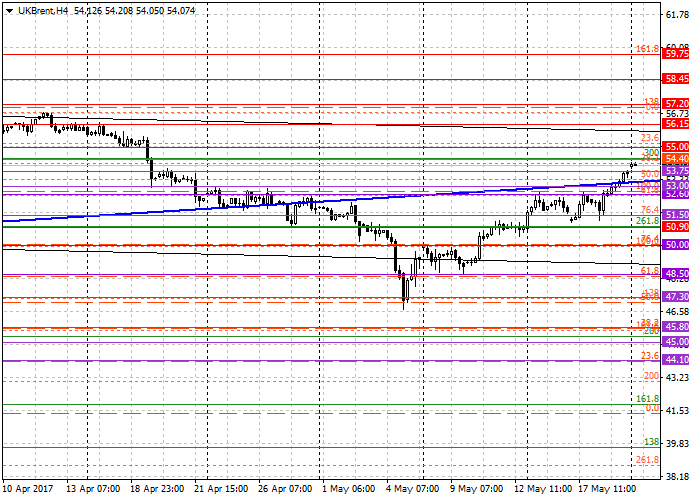 Trading scenario
Open long positions at the current price with the target at 54.40, 55.00 and stop loss at 53.70.
Sell at the level of 53.00 with the target at 52.60, 51.50 and stop loss at 53.40.
Implementation period: 2-3 days.
Scenario
| | |
| --- | --- |
| Timeframe | Intraday |
| Recommendation | BUY |
| Entry Point | 53.99 |
| Take Profit | 54.40, 55.00 |
| Stop Loss | 53.70 |
| Key Levels | 51.50, 52.60, 53.00, 53.75, 54.40, 55.00, 56.15, 57.20 |
Alternative scenario
| | |
| --- | --- |
| Recommendation | SELL STOP |
| Entry Point | 53.00 |
| Take Profit | 52.60, 51.50 |
| Stop Loss | 53.40 |
| Key Levels | 51.50, 52.60, 53.00, 53.75, 54.40, 55.00, 56.15, 57.20 |